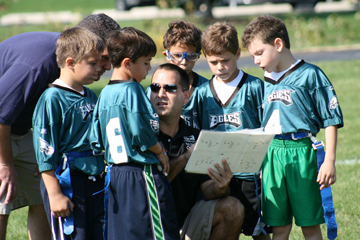 Be Involved, Become a Coach!
Youth sports coaches do not need experience, only the willingness and enthusiasm to coach. Kids and coaches alike should have fun. Coaching is a fulfilling aspect of any sport, especially youth sports. Call 847.850.2100 for more information.
Parents
There are thousands of boys and girls that participate in youth sports ever year in Buffalo Grove. One measure of success in these programs is the number of parents who volunteer as coaches and assistant coaches.
Unfortunately, many parents do not get involved because they feel a lack of knowledge about that particular sport. However, if they did get involved, even more kids could participate. We conduct park district programs on a "participation" philosophy. We feel it is more important for all youths to play and enjoy the sport, rather than to win at all costs. We never measure success in wins and losses. The park district conducts training sessions for all new coaches with ideas to get them started.
NYSCA
The Buffalo Grove Park District trains all of its youth sports coaches in clinics developed by the National Youths Sports Coaches Association (NYSCA). This nation-wide organization teaches parents that kids want to have fun and participate in all sports. In our fourth year of training, over 600 coaches have participated in sessions held prior to each sport season. Coaches are required to attend a lecture/video tape introduction, and then participate in hands-on sessions with qualified trainers. These sessions are designed for parents who have never coached, as well as the seasoned veteran. With more youths registering for sports, the need for volunteer coaches grows more each season. NYSCA training makes it easy for all parents to become a coach.
Bullying In Youth Sports
The Buffalo Grove Park District utilizes the National Youth Sports Coaches Association to provide volunteer coaches online training pertaining to bullying in youth sports by players and coaches. The online training will provide coaches the necessary educational tools to intervene and work with athletes. Coaches will also benefit by learning 3 types of bullying (physical, verbal and relational), there differences, and their warning signs. For more information about NYSCA, visit their website at nays.org.