Located at the south end of the parking lot at the Sidney Mathias Metra Train Station
835 Commerce Court
Buffalo Grove, IL 60089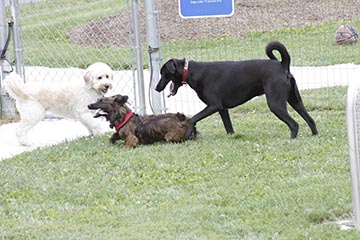 Drawing of the Happy Tails Dog Park
Hours
Sunrise to Sunset
The dog park will be closed every Monday from 12 – 3 pm for maintenance, weather permitting.
Report Vandalism
To report acts of vandalism and/or hazardous park conditions, please contact Tim Howe at 847.850.2163.
The dog park is open to everyone, whether you live in-district or out-of-district. All dog park users must purchase a permit before entering the dog park.
Permits are available for purchase at the Alcott Center. You can download the annual, late season, or daily use permit and return it in person at the Alcott Center for processing. Dog Park permits are only issued at the Alcott Center from 8:30 am – 4:30 pm, or they can be mailed upon request.  Please click on the link below to purchase your permit online.
In order to purchase a dog park permit, you will need to provide a copy of the current rabies vaccination record for each dog.
Online Permit Application (May 1 – April 30)
Printable Forms
Annual Permit and Release Waiver Forms (May 1 – April 30) Late Season Permit and Release Waiver Forms (November 1 – April 30)
Daily Permit and Release Waiver Forms
Parking
Free parking is available at the south end of the Sidney Mathias Metra Train Station, located at 835 Commerce Court in Buffalo Grove.
Out of consideration for residents in the neighborhood just west of the dog park, we ask that all dog park users refrain from parking on neighborhood streets and only use the parking lot at the Sidney Mathias Metra Train Station.
Dog Park Rules – Ordinance 1.12
For everyone's safety and enjoyment, you and your dog are required to adhere to the following while visiting the Buffalo Grove Park District Happy Tails Dog Park. Permits are nontransferable and nonrefundable. Permits may be revoked and/or fines charged for any rule violation.
General
1. Park hours are from sunrise to sunset. Patrons will use the park at their own risk.
2. Alcoholic beverages and smoking are not permitted.
3. All dogs must wear a collar displaying a current rabies tag and the Buffalo Grove Park District dog tag, or the owner must have valid daily use permit.
4. Children under the age of 10 years old are not permitted in the dog park at any time. Children 10 – 17 must be accompanied by an adult 18 years of age or older.
5. Children should not run or chase after dogs. Never pet a dog unless the dog's owner has granted permission.
Control & Behavior
1. Dogs visiting the park must be at least 4 months old.
2. Dogs that are ill or in heat are not permitted.
3. Rawhide or food are not permitted, as dogfights might result.
4. Aggressive dogs are not permitted. Handlers/owners must remove their dog(s) at the first sign of aggression.
5. Dogs must be leashed while entering and exiting the park. Once in the dog park, the leash may be removed;
however, the handlers/owners must have a leash in their possession at all times.
6. Handlers/owners are responsible for controlling their dog(s) and must maintain visual and voice contact with their animals at all times. Handlers/owners may be legally responsible for any injuries or damage caused by their dog(s).
7. There shall be no more than 3 dogs per handler/owner.
8. Pinch, choke chain and spike collars must be removed from the dog(s) prior to entering the dog park.
9. Handlers/owners are subject to a $75 fine for failure to pick up and properly dispose of their dog's waste.
Dog Park Sponsors: