The Buffalo Grove Park District is pleased to offer the Living Tree Memorial Program as a unique way to remember a loved one, or commemorate a special date, event or organization with a tree.
Park District staff will contact the donor regarding the choice of tree and its location.  Trees are planted each spring and fall by Park District staff.
All donations include a custom engraved memorial leaf, mounted on the Living Tree Memorial wall at the Alcott Center.  Each 3½-inch leaf is limited to 4 lines of copy, with 22 letters per line, and one additional line for a date.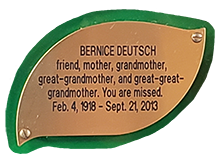 In addition, tree donations are tax deductible.  For more information, please call Tim Howe, Director of Parks and Planning at 847.850.2163.
Tree Selection
Memorial trees may be selected from a variety of tree species.  Our listing of recommended trees includes, but is not limited to, the following popular species.  The cost of a tree is $350 for a minimum 3-inch diameter tree trunk.
Shade Trees
Oak • Maple • Locust
Tall, strong deciduous trees with a large canopy, often exceeding 45 feet in height.
Ornamental Trees
River Birch • Walnut • Beech Flowering Crab

Larger deciduous trees with unique growth habit, or other unique characteristics.
Evergreen Trees
White Fir • Colorado Blue Spruce • Norway Spruce • White Pine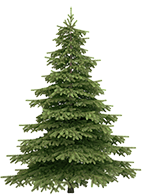 Evergreens with needle-like or scale-like needles, which remain year-round on most species.
Living Tree Memorial Purchase Form
Please complete the form below to commemorate a person, date, event or organization with the purchase of a tree. Please note: The payment page is separate from this form.
There is a button at the end of the form that takes you to the payment page.
After you have submitted the form, please click on the payment button below to pay the fee.