Our regular schedule and Club 50 membership has resumed.  Visit the Alcott Center front desk to register.  For more information, contact Megan Baird at 847.850.2119 or megan@bgparks.org.
There are some programs running virtually including SAGES, Current Events, as well as a wide variety of other programs that may pique your interest. For details, dates, and times, view the current program guide.
Information
New players are always welcome to stop by, learn, and join the fun. Please bring your own water bottle and sweater, if you tend to feel cool.
Additional Program Information
Please see the current program guide for a complete list of program offerings.
For Club 50 Members Only
Activities Included in Membership:
Bingo
Bridge
Bunco
Canasta
Knitting & Crocheting
Mah Jong
Pinochle
Poker
Texas Hold'em
Become A Member of Club 50
Wondering What To Do For Fun? Want a place to socialize with active, exciting people your own age?
Become a part of the Buffalo Grove Park District's Club 50, a program for adults age 50 and over. Trips, lectures, services, refreshments, and planned activities are all part of the excitement that awaits you.
In-District Membership Fee: $20
Out-Of-District Membership Fee: $25
All memberships expire every year on April 30, and a new year will begin May 1.
Benefits Of Becoming A Member
This membership entitles you to discounted member rates for many of your trips and programs and enables you to participate in our many free lectures, lunches, parties, and drop-in programs. Be the first to find out what there is to do and avoid being placed on waiting lists. Membership is not required to enroll in classes or to make use of services that are offered. In-district/out-of-district fees will apply.
20% Discount
In-district residents age 62 and over, are entitled to a 20% discount on recreation opportunities through the Park District, except for contractual programs and trips. This will be indicated throughout the seasonal program guides. The graphic symbol with the letter "S" indicates the 20% discounted fee. This will help you identify the programs that will entitle you to an additional discount. Classes offered in the senior section already are discounted. Prices are as stated.
Transportation
Wheeling Township – Offers bus service for Wheeling Township residents Monday through Friday from 9 am to 4 pm. Call 847.259.7743 between 9 am and 1:30 pm to make a reservation. Reservations should be made 2 days before the travel date.
Taxi Service – The Village of Buffalo Grove has negotiated a discounted fee for seniors. For more information on this program please call the Village at 847.459.2500. Forms are available at the Alcott Office.
Good & Welfare
Have a card sent from our Senior Advisory Council Board. Cards can be sent for any occasion, get well, congratulations, sympathy, etc. If there is a member you would like to send a card to, please tell our Good and Welfare Chairperson.
The Crafty Ladies – Knitting & Crocheting
The Crafty Ladies are a great group, helping others while having fun. Hand-made knitted and crocheted items are wanted by many. All items the Crafty Ladies make are donated to worthy causes. They have yarn and patterns but can use a few more helping hands. Please stop by and see all the beautiful items they make. If you have yarn you would like to donate, please call 847.850.2146.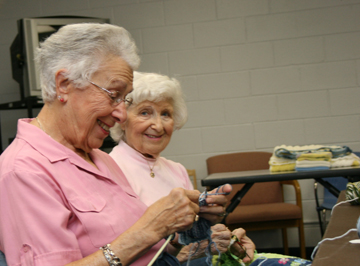 Current Events
Join Rabbi James Gordon, Director of Pastoral Services at the Claremont Rehab and Living Center. This group will meet once a month.
Senior Adults Growing & Exploring (SAGES)
Click this link for more information on SAGES.

Indian Trails Library (program currently on hold)
A librarian from the library comes to the Alcott Center once a week with a selection of books and movies to browse and check out with a library card.
For more information, contact Megan Baird at 847.850.2119 or megan@bgparks.org.