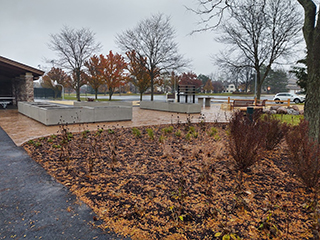 The Nature Classroom and Educational Gardens are a new satellite facility of the Raupp Museum. Located in Mike Rylko Community Park, the Nature Classroom will feature exhibits on the local environment, as well as classes that use the surrounding park area as a living lab for students of all ages.
Nature Classroom Programs
Check back in April for updated information.
Educational Gardens
The Educational Gardens at the Nature Classroom are a new feature of the park which will be opening in Spring 2022. The garden planters will feature different themes: Historic Plants, Native Plants, Sensory Gardening, and Accessible Gardening. The museum will also be conducting tours and programs on these themes using the new outdoor classroom space.
Join Us! Do you have an idea for the new Educational Gardens? Would you like to volunteer? Contact us at Museum@bgparks.org.
The Educational Gardens at the Nature Classroom are made possible in part by an Illinois Public Museums Capital Grant from the Illinois Department of Natural Resources.
Garden Grand Opening
Saturday, May 14
1 – 4 pm
Join us for the official opening party of the new Educational Gardens at Mike Rylko Community Park. Visitors will be able to learn about historic plants, touch and smell plants in the sensory area, and even help us out by adding a plant to the new green wall.