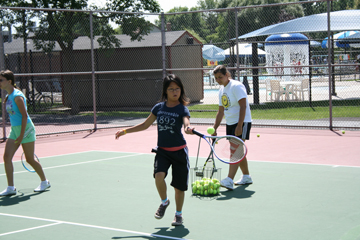 Staff from the Heritage Tennis Club will offer instruction for summer classes at Emmerich and Willow Stream Parks.  Fall, winter and spring instruction will be offered indoors at the Heritage Tennis Club in Arlington Heights.  You do not have to be a resident of Arlington Heights or a member of the Heritage Tennis Club to participate in the indoor lesson program.  There are non-member fees so participants can try the program before deciding to join and receive the benefits of the club's membership.  For fall, winter and spring program and registration information contact the Heritage Tennis Club at 847.398.7780 or visit the website at ahpd.org/htc.  Heritage Tennis Club is located at 7 West College Drive in Arlington Heights.
Rain Policy   
Classes will be cancelled due to inclement weather (rain or excessive heat).  If an individual class is cancelled more than once, the instructor will arrange for a make-up class.  If there is any doubt about the weather, please call their rain hotline at 847.574.2233, and press 17# for youth classes.  For youth make-up classes, press 26#.
Quick Start Tennis
Age: 4 – 10 years
Quick Start Tennis is designed for children 10 years and younger who are new to the game or need additional instruction to rally using ground strokes, volleys and serve. Quick Start Tennis takes a new approach to introducing kids to the game by using fun sized courts, nets, racquets and balls. The lighter low compression balls bounce lower, which helps develop proper techniques. All students are advised to purchase a 21 – 25 inch tennis racquet (typically 4 – 6 = 21″, 7 – 8 = 23″, 9 -10 = 25″).
Junior Tennis
Age: 10 – 17 years
Junior Tennis is designed for players 10 and older who want to learn and improve their tennis game. Advanced Beginner classes will focus on improving all basic strokes, including forehand, backhand, volleys, serve, lobs and overheads. Our Advanced Beginner Intermediate classes are for those who are looking to get the most out of their game and are ready for match play.
Please note: This program does not run year-round.  Please check the seasonal program guide for availability and scheduling.