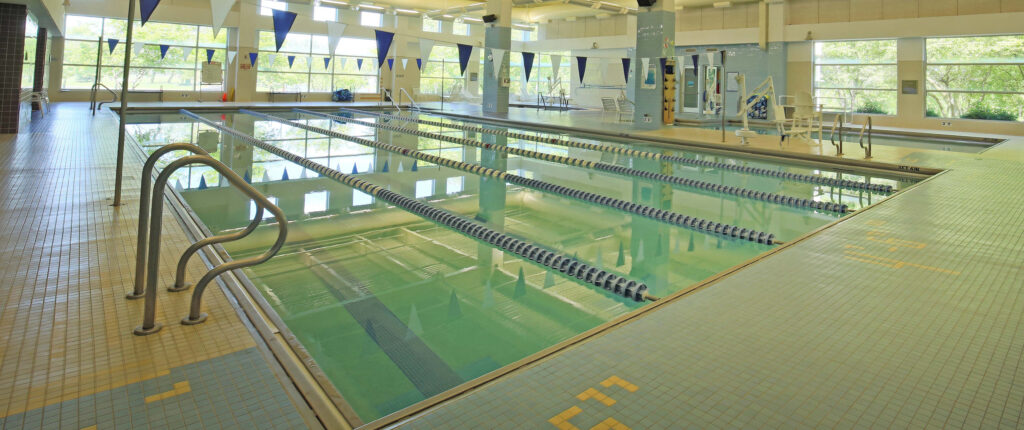 As part of the unlimited monthly membership, we offer an indoor pool that has five 25-yard lap lanes, and a temperature consistently between 82-83 degrees. It is perfect for lap swimming, water aerobics, or aquatic exercise all day long. The pool area also includes a warm water therapy pool that is 92-93 degrees, making it ideal for recovery and exercise. There is also a sauna and hot tub available for members to relax and enjoy some downtime.
Lap Swim Guidelines
Participants must be 16 years or older for lap swim.
There is no lifeguard on duty.
Two swimmers per lane.
Showering is required before use.
Please read all the rules posted on the pool area wall before swimming.
Aquatics Classes
Warm Water Arthritis
This 45-minute class takes place in our warm water therapy pool, which allows for flexibility and mobility of the joints. Certified instructors will lead you through a series of exercises that can help relieve the pain and stiffness caused by arthritis. For more information, contact Debra Saper at 847.353.7512.
Master Swim
Age: 16 years and up
Join our weekly 1500 to 2400-yard swim workout led by a certified instructor. Everyone must be able to swim a 400-meter freestyle to participate.
Youth Group Swim Lessons
Please read and abide by all aquatics area rules.
Additional Swimming Lessons
Private Swim Lessons
Private swim lessons are a great way to learn the basics of swimming or fine-tune your techniques at any age. They are designed to meet your specific needs and are open to both adults and children. To register for private swim lessons, contact the Aquatics Facilities Supervisor, Jenn Foreman, at 847.850.2110.