Not sure how to use the cardio or weight equipment? Do you want to know how to target that problem area? Our fitness specialists are available on the fitness floor for questions and equipment orientation.
Cardiovascular Training
We have more than 100 pieces of cardiovascular training equipment on a 10,000-square-foot fitness floor, so equipment is always accessible for a good cardiovascular workout. Treadmills, elliptical trainers, stair climbers, step mills, upright and recumbent bikes, and rowers round out the selection of equipment. Most cardiovascular equipment has a personal television screen attached allowing members to watch and listen to their favorite programs while working out.
Weight Resistance Training
The weight room offers a variety of weight resistance equipment, including plate loaded, free weight, and selectorized weight machine equipment.  In August, we updated the layout of the fitness floor to enhance the members' experience.  We also added new equipment (see list below), organized the weight room, and opened up space allowing members to work out comfortably and safely.
5 New PRECOR Treadmills
Assault Bike
Concept 2 Rower
PRECOR Leg Press/Calf Extension
PRECOR Leg Extension/Curl
Dynamic Glute Ham Developer
NAUTILUS Glute Drive (Hip Thrust)
PRECOR Back Extension
PRECOR Multipress
PRECOR Rear Delt/Pec Fly
PRECOR Pull Down/Seated Row
PRECOR Bicep Curl /Tricep Extension
PRECOR Abdominal
6 PRECOR and TAG Multiple Benches
PRECOR Preacher Curl Bench
TAG Fixed EZ Barbell Rack
PRECOR Olympic Flat Bench Press
PRECOR Half Rack
PRECOR Power Rack
PRECOR Handle Rack
2 TAG 3-Tier Dumbbell Racks
PRECOR Olympic Squat Rack
PRECOR Smith Machine
2 PRECOR Lifting Platforms and Half Racks
Tag Olympic Bumper Plates 5, 10,25,45 pounds
Tag Olympic Chrome Bars and a Hex /Trap Bar
New PRECOR Adjustable and Flat Benches
As you feel more comfortable using weight resistance equipment, we encourage you to vary machine usage and type for a comprehensive, full-body workout.
New Fitness Equipment Has Arrived
Additional Fitness Areas
Track
Our track is located on the upper level overlooking the fitness floor and gymnasium.  It's 1/12th of a mile of shock-absorbant flooring designed to minimize impact on the joints. Our boxing area is available at the west end of the track.  Cardio and weight equipment is also available by the elevator.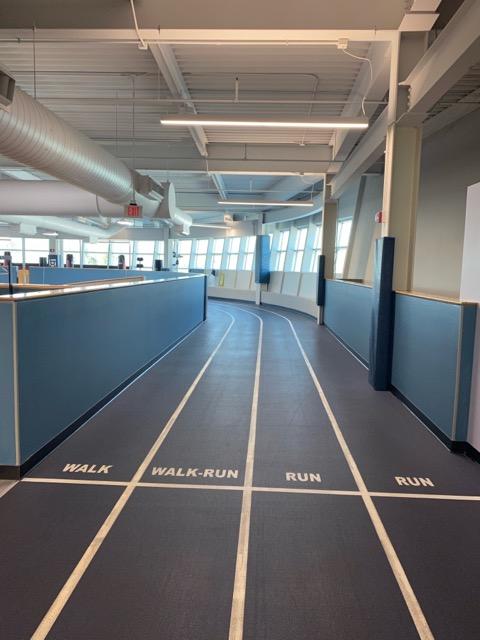 Gymnasium
Our multi-purpose gymnasium offers full and half-court basketball as well as pickleball and space for group exercise classes and individual workouts.

Wellness Room
We invite you to check out our new Wellness Room, which was designed for the active older adult as a welcoming space to work out and socialize.  It includes a variety of equipment for members to improve their strength, balance, and flexibility.  Available cardio equipment includes Nu Steps, treadmills, and upright and recumbent bikes.  Active aging equals a better quality of life for our members.  The Wellness Room is located on the left side of the hallway that leads to the men's and women's locker rooms.