Aly Stanczak
Recreation Manager/Academy and Company Manager/Instructor
Aly graduated from Loyola University of Chicago with a degree in elementary education and a minor in theatre.  She has trained in ballet, tap, jazz and hip hop, and has been teaching at various studios for over 20 years.  She keeps up to date on the latest trends by attending local dance conventions and the National Dance Life Teacher conference.  In addition to teaching, Aly has choreographed many local theater productions for children and adults.  She created and grew the dance program here at the Park District as the studio director for 14 years, and she now serves as the company director.  Aly is proud to have originated and developed the dance company program, which began in 2007.  The company gives dancers the opportunity to train at a higher level, and compete and perform in multiple venues, including Disney World!  Routines choreographed by Aly for the company have taken top overall placements at competitions, as well as multiple judges choice awards.  Aly is pleased to say that dancers trained within the company have gone on to dance at Visceral, Ruth Page, Gus Giordano, and the Joffrey Academy.  She can't wait to continue to share her love of dance with our community!

Jen
Instructor
Jen began dancing when she was 4 years old, and has trained in ballet, tap, jazz and hip hop.  She danced competitively in high school, while also coaching youth cheer and dance teams.  Jen is a former Studio 83 Dance Instructor, and is so excited to be back this year.  She joined the Park District as a Dance Camp counselor in 2005.  After graduating from Loyola University Chicago in 2008, she began choreographing for the company, and her routines consistently received high trophies and judges choice awards.  When she's not dancing, Jen is an event coordinator, and also enjoys running with her dog, Jack, and spending time with her family and friends.


Melissa
Instructor
Melissa started dancing over 30 years ago at a park district in California, and went on to study at the Round Lake Area Park District Studio of Dance, Northshore School of Dance, Lou Conte Dance Studio, Cincinnati Ballet's Otto M. Budig Academy, and the Joffrey Ballet School in New York.  A proud member of the Chicago National Association of Dance Masters, she has taught dance for 20 years, and has also choreographed for more than 20 productions, including the Studio 83 Dance Academy's own Nutcracker Rhythm and Grace.  Melissa loves working with her students to discover their full potential, and seek out those "ah-ha" moments.

Gini
Instructor
Gini has been dancing for many years, and has trained in ballet, tap, jazz, lyrical and hip hop.  She was in the Ripon College Dance Company, and has performed in The Nutcracker multiple times.  Gini enjoys everything dance – from teaching, to training, to performing, to watching.  She loves watching her students grow as dancers, and is very excited to be teaching for Studio 83 Dance Academy.


Cathy
Instructor
Cathy has been teaching dance and acrobatics throughout the north and south suburbs since the age of 14.  She is trained in ballet, tap, jazz, modern, lyrical and tumbling. Cathy believes it is never too late to start dancing, and most enjoys teaching teens and pre-teens that are new to the dance world.  Cathy spent 10 years as a professional dancer in the south suburbs, but has since stepped off the stage to focus on teaching.  You can see her work in many musical theater productions in the area, working with both children and adults.  Her advice to her students is, "Don't be afraid to look at the beauty of yourself in the mirror; trust yourself that you are enough, and feel the ground under your feet everyday."

Kathryn
Instructor
Kathy has been a dance teacher for 40 years, and had a studio in the Fox Lake area for 6 years.  She then moved to Seattle, where she was the owner and director of Kathy's Studio of Dance and the KSD Dance Company for more than 30 years.  Before teaching, she studied at 2 Illinois dance studios, and studied ballet with Judith Svalander School of Ballet in Crystal Lake.  Kathy has been a choreographer for musicals, beauty pageants, pom groups and cheerleaders.   Many of her competition dances have received first place trophies and overall high ccores.  Kathy just retired from Starpower Dance Competition, where she was a judge and staff member for them for over 25 years, and currently works for Manhattan Dance Project, which is a dance convention that travels around the country hosting classes with master teachers from today's dance world.  Kathy is always most happy when she can pass on her passion to dance to children and adults of all ages.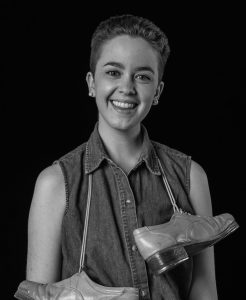 Molly
Instructor
Molly (they/them) is a dancer, choreographer, teacher and arts administrator originally from Charlotte, NC.  Molly has a B.S. in dance and arts management from Oklahoma City University, and has been a company member of Chicago Tap Theatre since 2018.  Molly has almost a decade of experience teaching dance, and is currently on faculty with Activate Your Artistry dance convention.  Molly is a choreographer and dancemaker, presenting works recently through Take Up Space Dance Festival, Chicago Tap Theatre, and Joel Hall Dance Company's Dances in the Hall; they are also a co-founder of and tap dancer/musician in Them the Band.


Annie
Instructor
Annie is a Chicago based teaching artist and choreographer, and is honored to teach and choreograph here at Studio 83 Dance Academy.  She received her B.A. in dance from Hope College in Holland, Michigan, and holds a master's degree in dance/movement therapy and counseling from Columbia College Chicago.  Annie enjoys her time both on the stage and off, with career highlights including concert dance, musical theatre, and improv.  Her work off stage includes choreography for both adult and youth performers in various settings.  She has been choreographing for the Studio 83 Dance Company since 2015, where her routines have earned both regional and national accolades.  Annie choreographs annually for the Mundelein High School theatre department, and is excited to work as a choreographer this fall for Big Deal Productions, here at the Buffalo Grove Park District, and Special Gifts Theatre in Winnetka.  Annie is most passionate about providing a fun, safe and nurturing environment for her students, where creativity and self-expression guide young artists in developing integrity, confidence, and a greater sense of self-worth.  She dedicates time to attend continuing education courses, in order to widen her understanding of an ever-growing art form, and connect with fellow teaching artists.

Hannah
Instructor/Guest Choreographer
Hannah began her training right here at Studio 83, and performed and competed with our dance company.  She continued her studies at Gus Giordanno, Visceral Dance, Inaside Dance, and Dance Academy of Libertyville. Hannah also worked as a dance camp counselor for our camp program, where she taught classes and choreographed routines for our campers.  Hannah is overjoyed and thrilled to be back at Studio 83 to bring her passion and energy to inspire and motivate our students.

Sara
Instructor
Sara is a recent graduate from Illinois State University, and will be teaching 2nd grade in the fall.  She has 19 years of dance experience, both recreationally and competitively.  Additionally, she was on Stevenson High School's Patriettes for 4 years, including as captain, and Illinois State's Redline Express Poms teams for all 4 years, also including being captain.  Finally, Sara has worked for the Buffalo Grove Park District in many ways, including Dance Camp, assistant choreographer at Big Deal Productions, and choreographer at Broadway Bound.  Dance is at the very core of who Sara is; and, she can't wait to start teaching at Studio 83!