Upcoming Public Performances
Sunday, November 12 at 1 pm
Vernon Area Public Library
300 Olde Half Day Road
Lincolnshire
Wednesday, November 15 at 12:45 pm
Patty Turner Center
375 Elm Street
Deerfield
To register for this performance, call 847.940.4010 or click this link.
Thursday, November 16 at 2 pm
Arlington Heights Senior Center
1801 W. Central Road
Arlington Heights
To register for this performance, call 847.253.5532.
Wednesday, December 6 at 7 pm – Special Holiday Show
Elk Grove Village Public Library
1001 Wellington Avenue
Elk Grove Village
Sunday, December 10 at 2 pm – Special Holiday Show
Prospect Heights Public Library
12 N. Elm Street
Prospect Heights
Tuesday, December 19 at 7 pm – Special Holiday Show
Mt. Prospect Public Library
10 S. Emerson Street
Mt. Prospect
Friday, December 22 at 1 pm – Special Holiday Show
Libertyville Senior Center
135 W Church Street
Libertyville
To book Encore! for your event, call Bruce Bohrer at 847.347.2797 or email encore@bgparks.org.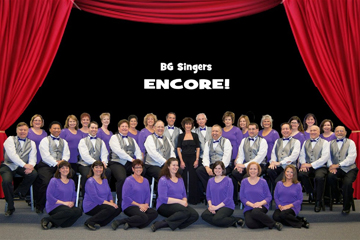 Encore is the traveling performing ensemble of the Buffalo Grove Park District fine arts adult choir, The BG Singers.  This talented group of adults performs a variety of music, from jazz to pop, and from oldies to the best of Broadway.
Encore was born in 1997, 3 years after the BG Singers presented their first concert.  The BG Singers had been performing since 1993 in the Buffalo Grove area.  After the third annual BG Singers concert in March of 1997, several of the singers were lamenting the fact that their "season" was again coming to an end and it seemed like a long time until September when the group would reconvene to begin work on their next concert.  Why not, they thought, continue to perform highlights of their concert throughout the summer at venues in the Chicago area?  The rest is history.
Since that time, Encore has taken their show on diverse  roads, including charitable organizations, summer festivals, library programs, political events, small private parties, and large venues, such as Arlington Park Race Track and Chicago's Daley Center.
Encore continues to delight audiences with shows that feature their high-energy and enthusiastic vocal performances.  Especially popular is their Holiday Show that they offer during the months of November and December.  Perhaps their success is best illustrated by the large number of requests that they receive for repeat performances.  Encore is proud that they were the champion in "Sing 2011," a national competition for singing ensembles.
To book Encore! for your event, call 
847.347.2797, email encore@bgparks.org, or provide your information below.
Encore! Videos
Encore was the winner of the 2011 national Sing! competition. Click here to read about their wonderful accomplishment.
View the first of 2 videos of Encore! being featured on the CBS2 Chicago Morning News.
View the second of 2 videos of Encore! being featured on the CBS2 Chicago Morning News.
What past audiences have to say about Encore!
It was a wonderful performance. Everybody thoroughly enjoyed the group and was in agreement that it was the best performance we've had in all the years we've been doing this. Fabulous job!
-Chicago Skyliners (United Airlines Retirees Group)
Members of the audience have been raving about how much they enjoyed your selections, choreography and stylish staging.
-Morton Grove Public Library
We were delighted with your group's talent, friendliness and positive attitude…
-Arlington International Racecourse
You have a wonderful ensemble with the attributes of personal camaraderie, good voices and creative choreography.
-Northfield Corporate Plaza
Can't thank you enough for the wonderful program.  My ears are ringing with praise that our group had for Encore's stirring performance.
-American Legion Post 166
The talent and enthusiasm of your group, plus your exciting program selections thrilled the appreciative crowd.
-Long Grove Merchants' Association
Encore was a delight to listen to and watch.  The music was beautiful and presentation fantastic.
-Indian Trails Library, Wheeling, IL
Encore put on a Holiday Show that blew us away. Two standing ovations were given to them for their efforts, which were truly professional.
-Audience Member at Edgewater by DelWebb
A sampling of Encore! previous performances…
Chicago Skyliners
WINGS Fundraisers
Strawberry Fest, Long Grove
Buffalo Grove Arts Fest, Buffalo Grove
Deer Park Concert Series, Deer Park
Arlington Park Race Track, Arlington Heights
Taste of Lincolnshire, Lincolnshire
Sun City, Huntley
Cambridge on the Lake, Buffalo Grove
Schaumburg Flyers, Schaumburg
Glen Fest, Glenview
Senior Center, Park Ridge
Daley Center, Chicago
Wilmette Theatre, Wilmette
Navistar Retiree Chicago Area Retirement Club, Oakbrook
Buffalo Grove Chamber of Commerce, Buffalo Grove

Highlights from Encore!'s 50s show.

Encore at WINGS fundraiser at Stephens Convention Center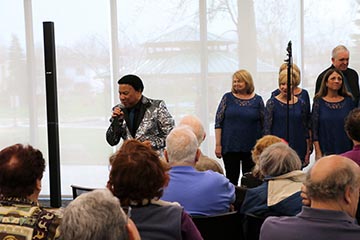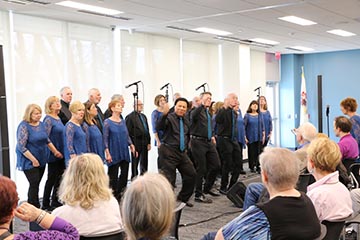 Encore at Indian Trail Library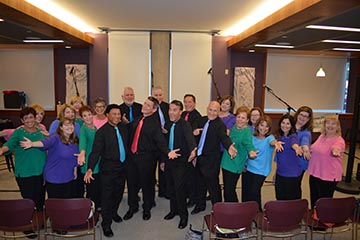 Encore at the Mt. Prospect Library (used with permission of Mt. Prospect Public Library)


Encore at the Drake Hotel in Chicago

Encore performing at a recent holiday party

At Arlington Race Track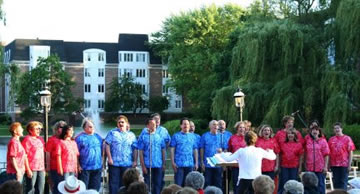 At Cambridge on the Lake, Buffalo Grove

At 4th of July Celebration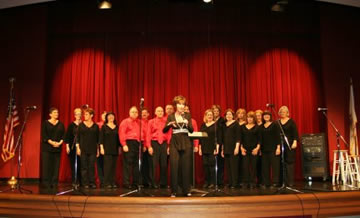 At Sun City, Huntley, IL